Indonesia is a land where you can expand beyond your inhibitions and step into alignment to explore your outer and inner worlds. Bali and Lombok are two islands that contain pristine beaches, world-class surf breaks, and unique energies conducive to yoga, meditation, and adventure. This retreat is perfect for explorers; we will spend the first four nights on Bali, then travel by boat as a group to Lombok for the remainder of the trip so that you can experience the variety of cultures, beaches, and landscape that Indonesia has to offer. Each day includes surfing, meditation, yoga, and time for you to unwind and connect to yourself and fellow travelers.
THE DESTINATION
---
Our retreat begins on the magical island of Bali, which has long been revered as one of the best surf destinations in the world. Beyond the surf, Bali holds a particular magic that many people describe as the Heart Chakra of the planet. Balinese culture encompasses a slower rhythm of life that celebrates many ancient rituals and festivities, and this mystical island is home to various centuries-old temples that are brought to life daily through flower offerings and rituals. Bali is the perfect place to commence a retreat so that you can align with a unique way of perceiving the magic in the world, even as you adventure some of the best beaches and waves in the world.
On October 29th, our group will take a boat (roughly two hours) from Bali to Lombok, which is one of the world's rare, untouched gems. After the crowds of Bali, Lombok will provide a deeper opportunity for you to unwind and tune into the harmony of nature. Kuta, where we are staying (on the south), has one of Indonesia's best beaches and surf breaks. There is an abundance of waterfalls, hot springs, and natural beauty to explore, and the island provides an even more relaxed setting than Bali. Travelers to Indonesia are always glad to experience the contrast between the two sister islands, and we are excited to explore both with you!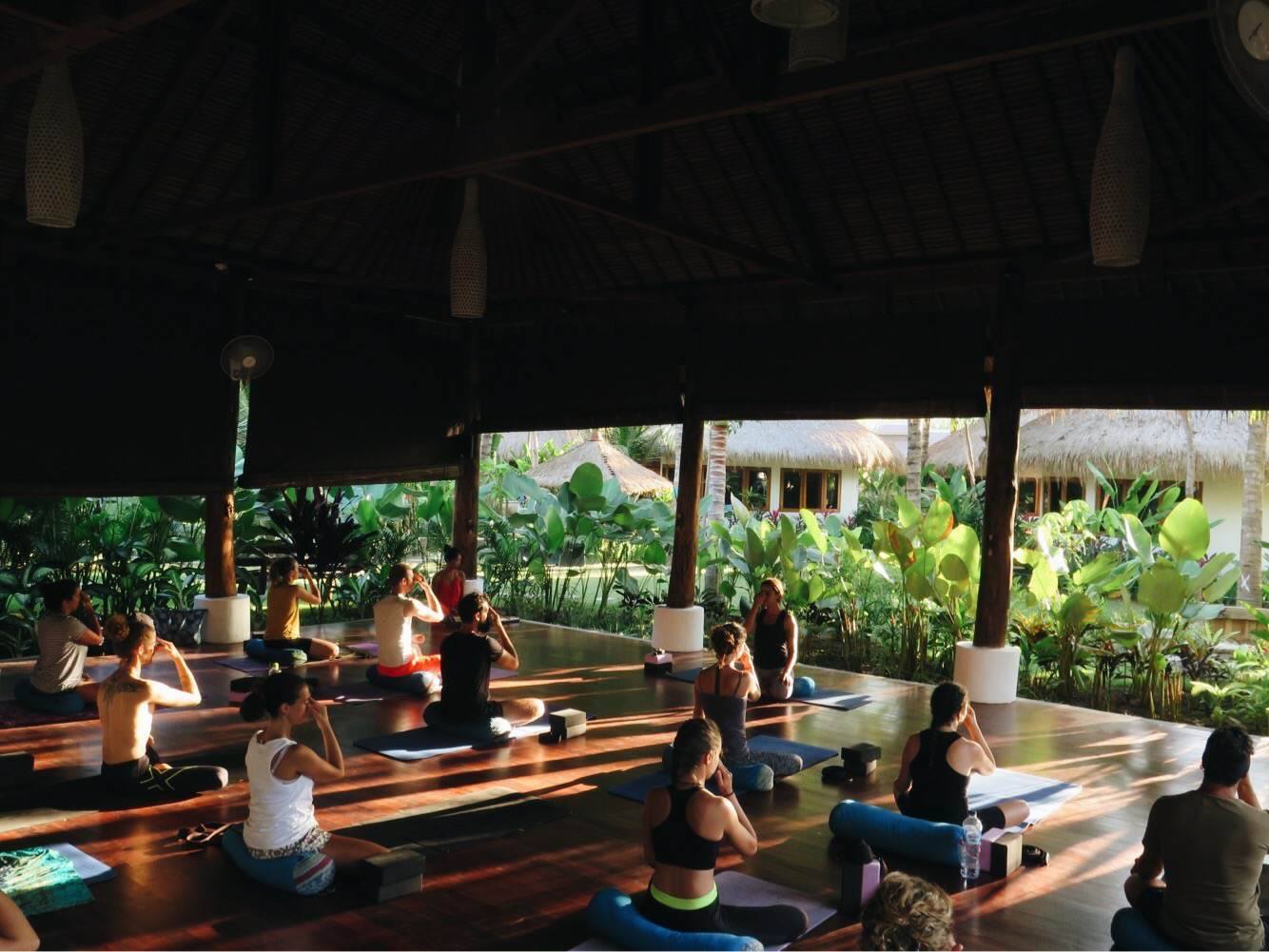 YOGA
Steph and Polina are both knowledgeable 500-hour RYT teachers with a deep, experiential knowledge of ancient yoga teachings. Their specialties include a powerful combination of Ashtanga-based Vinyasa flow to connect you to your strength and breath, Kundalini to increase your energy and inner awareness, and practices of meditation, mantra, and pranayama (breath practices).
Every morning will begin with a meditation and mobility focused yoga practice designed to center you and cultivate a sense of inner harmony and balance before you head out to surf and explore. In the evening, we will intuitively guide you through a practice that could involve Ashtanga/vinyasa, restore, yoga nidra, Kundalini, a workshop, or some combination. Since the retreat is also about the energy of the waves, we will practice fluidity and do a practice best suited to the group's unique needs each day.
The poignant combination of yoga and surfing will allow you to have a deep, insightful experience of your truest self. Retreats provide the perfect opportunity to rewire your nervous system so you have positive patterns to implement into your daily life when you return home. Even if you decide not to surf, being surrounded by the element of water and experiencing the island life will allow you to harness the power and softness of the ocean for your own meditation and experience of life.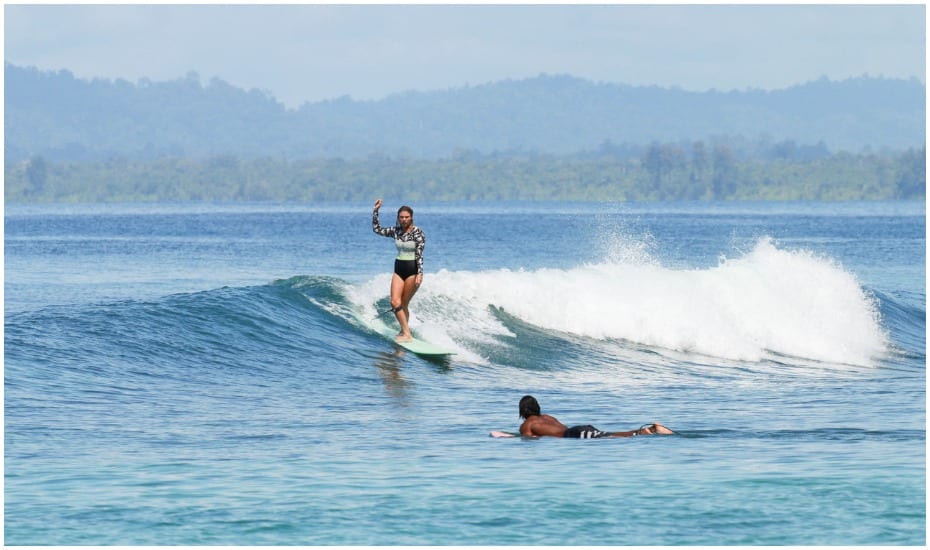 SURF
Bali and Lombok have some of the world's best surfing; the water is warm, and there are an incredible number of high quality surf breaks. We are very excited to be taking you to both islands so you can experience a wide range of breaks and beaches and explore more of the world!
The retreat package includes a daily surf lesson and/or surf guide so that everyone can find waves fit to their level, and so we can access the breaks with the best conditions on that specific day. A surfboard rental and transportation to and from the breaks will be provided.
*If you want to come and don't care to surf everyday, or at all, there are still an abundance of activities to do on both islands, and you are welcome to come for a discounted rate. E-mail for details.
---
BALI- MULE MALU TROPICAL STAY
Surrounded by white beaches and world class surf breaks, Mule Malu is a perfect oasis hidden on the Bingin cliff top, within walking distance to Bingin beach and a short drive to the famous beaches of Dreamland, Padang Padang, and Uluwatu. We are renting out the whole space for our four nights here! It consists of eleven cozy rooms, a saltwater pool, and an intimate cafe serving delicious food, smoothies, and coffee. The rooms are freshly designed in the Mediterranean style, and the combination of high quality mattresses and pillows and the quietness of the surrounding farmland ensure a peaceful night's sleep. Each room also has hot water, AC, drinking water, WiFi, and a safe. Mule Malu does their part to be environmentally friendly through the efficient use of water, energy, and materials. Check out the gallery below to see some photos!
LOMBOK- MANA RETREAT
Situated on the south side of Lombok, Mana Retreat is a relaxed sanctuary that offers gorgeous gardens, an open-air yoga shala, a cinema, spa, restaurant/bar, and all within a short drive to the island's best surf breaks. We have a variety of garden rooms and deluxe bungalows, all of which include AC, hot water, WiFi, drinking water, and a safe. Each room is unique and enjoys beautiful views of the pool or gardens. Mana retreat has also done their part to reduce their environmental impact. Steph and Polina are happy to partner with Mana in a karma yoga project. Through joining the retreat you help this project as proceeds will go to an NGO dedicated to helping the community in Kuta (the town we are staying in on Lombok). See the gallery below to see photos of Mana Retreat!
THE PACKAGE
WHAT'S INCLUDED
Four nights at Mule Malu in Bali
Four nights at Mana retreat in Lombok
Breakfast and dinner every day (Lunch can be purchased at a number of cafes or the retreat restaurant for roughly $5 USD.)
All yoga and meditation classes
The boat ride from Bali to Lombok/ or flight ticket to Lombok (+ shuttle to and from the airport on the way to Lombok)
Daily surf lesson/guide (see above in the SURF section about option to opt out of surf portion)
Daily surfboard rental and transport to and from the breaks
Daily room cleaning
*Participants must have travel insurance (not included in the package) 
PRIVATE ROOM – $2,100-$2,150 USD
If you desire extra seclusion for self care, private rooms are available
SHARED ROOM – $1,800-$1,850 USD
There are a variety of king, queen, and twin beds in many of the rooms, and we will do our best to get you into a room with other people you book with, and the beds you desire. If you want to come and share a room but you're coming solo, e-mail Steph or Polina and we can work to group you with other participants!
Indonesia Yoga & Surf Retreat Deposit $500.00 USD
There is an International airport on Bali in Denpasar (airport code DPS). We will have our first meeting at Mule Malu on October 25th around 4 p.m. We can help you arrange airport transport to the resort if you'd like.
There is an International Airport on Lombok (airport code LOP) that you can easily fly out of. Our last session on November 2nd will commence around noon. We can help you arrange transport to the airport after the retreat if you'd like.
US citizens do not need a visa if staying in Indonesia for less than 30 days. Just ensure that your passport is still valid for 6 months beyond the date of your arrival in Indonesia.
The local currency is the Indonesian Rupiah (IDR).
---
---
---