Vital Health, Radiant Beauty
Ancient tools for modern women
This course is a sacred space for women, where we'll dive into a world of transformative habits that elevate your body, mind, and soul! It's time to discover the incredible wisdom of your body and how its natural rhythm can help you live more soulfully. We'll explore ancient teachings of yoga, Tantric meditation, Ayurveda, and modern biohacking and coaching tools.
Prepare to embark on a life-changing journey that's all about you – your health, radiance, and inner vitality. In this course, we've curated wisdom from the sages infused with modern tools to help you reconnect with your body and soul and embrace a life that's as wild and beautiful as you are.
We'll dive deep into your infradian cycle, uncovering the hidden secrets of luteal, menstruation, follicular, and ovulation phases. Ever wondered why your cravings transform you into a pizza loving mermaid every month? We've got some insights, and it's not just about the pizza. There are simple tools you can use to hack your biology and help you glow like a goddess through each phase of the month.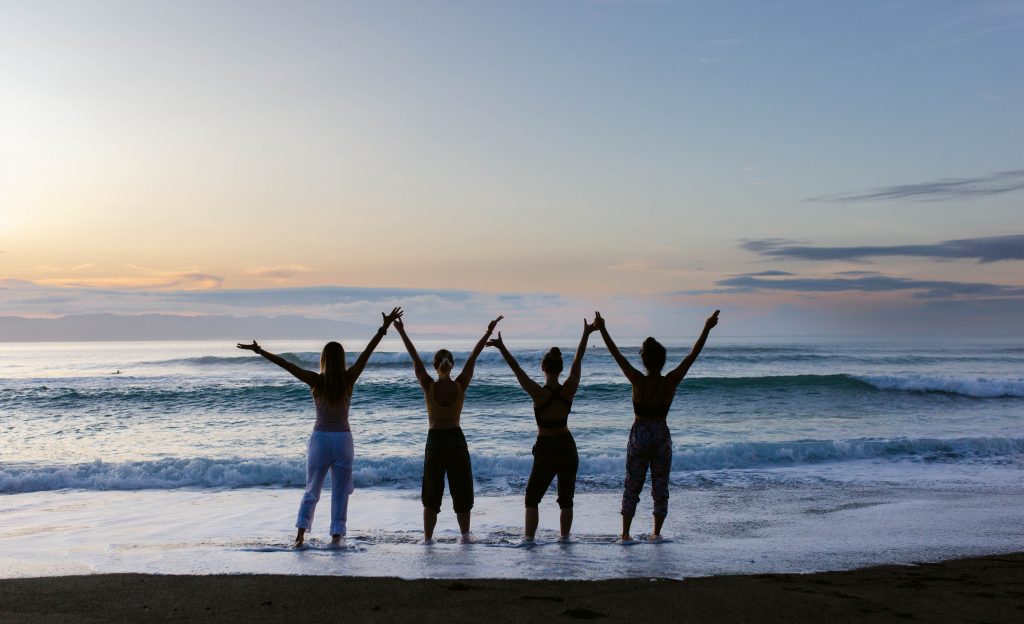 "A woman in harmony with her spirit is like a river flowing. She goes where she will without pretense and arrives at her destination prepared to be herself and only herself"
-Maya Angelou
Imagine a life filled with more:
You used to feel nervous about giving a big presentation or going to an interview, but now you feel grounded confidence because you scheduled it at a time when your biology is ready for you to shine.
Understanding your cycle means you can pencil in down time and self-care during your period so that it turns into something you feel excited about.
No more hustling around, trying to prove your worth, or attempting to be perfect. Unearth your authenticity and learn to listen to the innate wisdom of your body so that you can ride the waves of life with compassion and an ability to laugh at yourself.
This container will guide you into direct experiences that help you celebrate your authenticity, imperfections, and the joy of embracing yourself fully.
Because let's face it; life can feel overwhelming, and we've observed that throwing information at your analytical mind can cause more stress, whereas experiences you can feel in your body lead to lasting change.
And when it comes to self-care, we get it! Life gets busy, and those moments of "me time" can feel as mythical as a unicorn. But fear not, because together we'll craft personalized routines that fit seamlessly into your daily life and lead to you living as your glowiest goddess self!
Here, you'll meet a sisterhood of inspiring women, just like you. Engage in heartfelt conversations, support your innate beauty, prioritize your well-being, and step into a life filled with freedom, joy, and deep connection. 
Are you ready, goddess? Let's embark on this revitalizing journey together!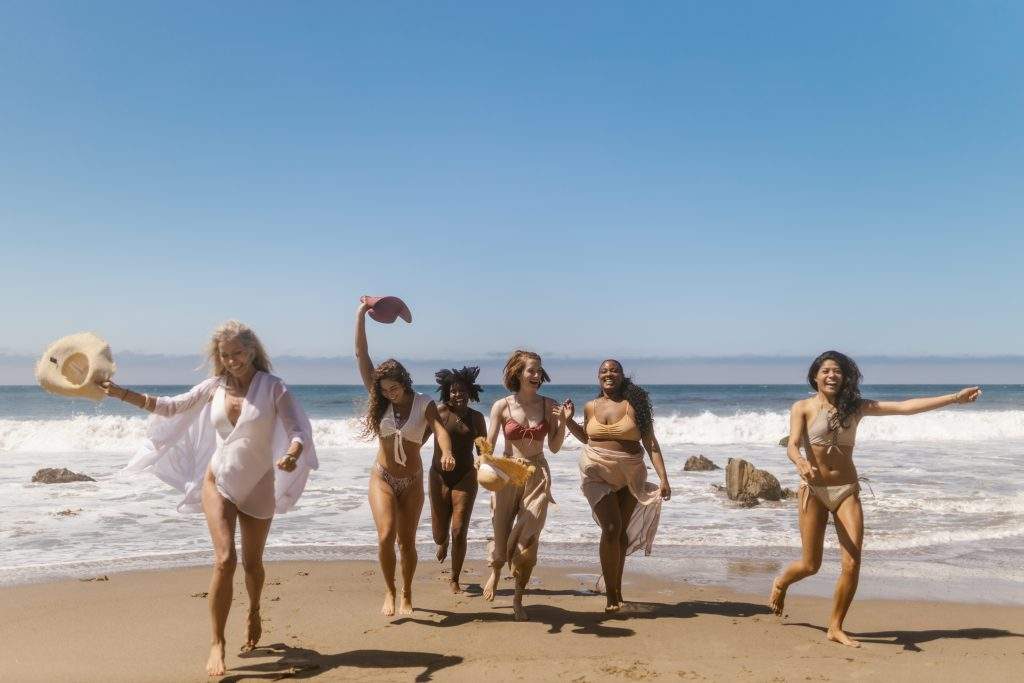 The course is a hybrid of live sessions and pre-recorded materials. You'll get:
Each module is one week,
here is the breakdown:
Plus Special Bonuses Included:
Live new moon circle with special rituals
Lecture on vaginal health from expert guest
WHAT ARE THE MODULES ABOUT...?
Learn to hone the magic of your luteal phase. Your body holds incredible wisdom when you learn to work with it instead of just reacting to problems that keep arising. Remember that pizza-loving mermaid we referred to before?
This moment in the cycle is a phase where she often likes to rear her lovely head. We've all felt those mysterious old friends that can appear during this time: tiredness, insatiable hunger, and grumpiness from time to time make all of us wonder if something is wrong.
There's a beauty that comes when you can embrace it all! Together, we'll delve into time-tested techniques to ride those waves with grace and humor.
The truth is, when we can understand luteal time, this phase of the cycle is ripe with opportunities to establish focus, hone in on the details of your life, and set boundaries. We'll investigate the energetics of this phase through goddess work, Tantric meditation, and journaling, while we'll get more visceral with specific nourishing foods and yoga practices designed to support your vibrant well-being.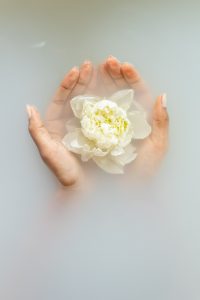 Embrace the wisdom of your menstrual flow. Ah, the dreaded "period" time. If only we collectively celebrated the ancient wisdom that invites us to lean into the stillness and reflection this phase can offer us! This module will provide the chance to do just that.
We'll take time to reflect on what's working in our lives and what we could improve, the "shadow" aspects of our personality, and how to approach ourselves with compassion.
This will be an opportunity to think about nourishment and stillness from the lens of the yogis, so we can embrace the quieter chapters of our lives with grace.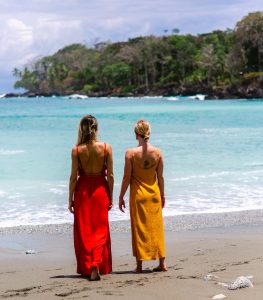 Foster a fascination for the follicular phase! It's time to spice things up this week. The energetics of this chapter of your cycle will have you feeling adventurous, creative, and primed to create a vision for your life that makes you glow whenever it pops into your mind. We'll guide you to foods and practices that help you feel fresh and bright, and show you how you can use your creativity to your advantage in your career. There are ancient techniques to help you lean into openness and inspiration, and we'll utilize our sacred space to help you "switch off your television to share your vision". Get ready to reconnect with your wildly creative soul, and embrace a life that's as beautiful as you are.
This week will unleash the radiant rebel within you as you explore the beauty of your ovulation phase. Most of us know that this time of the month can lead to more passion and intimacy (yes, please), but there are an abundance of other benefits to this glow-y time.

We'll do practices and journaling to pull out your most radiant you, and dive into some mystical wisdom to help you embody your gorgeous goddess self. Prepare to witness the magic of the transformative habits you've been implementing as they alchemize your life. Feel a profound shift in your well-being and experience the joy of holistic transformation. Get ready to glow from the inside out!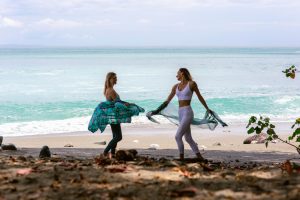 This course is for you if:
"Knowledge is power, and the power of sensitive control of her own body is each woman's birthright".
The total cost of the course is $444. Interest-free payment plans of 
two payments of $222 are available. 
Special early bird discount is $344 when you sign up
 by September 9th!
"Steph and Polina have the unique ability to create both a transcendent personal growth opportunity and a  powerful community learning opportunity all at once"
Polina and Steph are soul sisters who met during a life-changing yoga and meditation training in India in 2016. Since then, they've traveled the world together hosting retreats, continuing their studies, and deepening their love of culture and adventure. They've co-hosted retreats in Thailand, Indonesia, and Costa Rica, and experienced joy and challenges together.
Like so many other women, the past few years have taken them on a (sometimes frustrating) journey into understanding the wonder of the cycle and rhythms of the feminine. They started to wonder why so many women were navigating the same challenges they were, and hungrily dug into books, research, podcasts, and stories of how to work with the body instead of fight against it.
Their research coupled with the 20+ years of shared experience and deep study of ancient wisdom led them to a unique understanding of how modern science is now backing up insights the mystic traditions have had for centuries. Learning about the feminine cycle while still practicing daily meditation and yoga inspired an even greater connection to the subtle body, and they knew they needed to share their findings with other seekers!
Steph has hosted women-only retreats, while Polina has hosted women's workshops + circles for years, so they are expert facilitators for women. Their goal is to inspire you to listen to the wisdom your own body is telling you so that you can experience greater flow, vitality and ability for deeper relationships! The art of listening inward is one of the greatest gifts.
(M.S. Clinical Embryology)
My aim is to dismantle taboos surrounding women's health and reproductive matters. To provide an integrated perspective that brings together various approaches to wellness in a playful and exciting way. I believe that by understanding the intricate nature of our bodies, individuals can tap into the power of informed decision-making.
I graduated with my Master's in Clinical Embryology and Andrology from Eastern Virginia Medical School. The field of reproductive medicine and infertility opened doors to a world of possibilities, but after eight years, I found myself craving answers and perspectives that weren't readily available. This longing for deeper understanding led me to make a distinct shift back into the realm of holistic and alternative medicine. Over the next four years, I traveled across the globe as I embarked on my new journey of self-discovery and healing immersed in re-educating myself in what I, and the world, knew about women's health.    
In the intersection of modern science, ancient wisdom, and holistic philosophy, I've carved a unique space, with a special focus on reproductive health and fertility. My belief in bridging the gap between different approaches to wellness has been nurtured by a holistic foundation rooted from an early age.
With over 10 years practicing yoga in various disciplines, I recently completed my 200-hour certification in Traditional Hatha yoga.  My journey continues in my pursuit of the studies of Yin Yoga, medicinal Herbalism and our understanding of energy to further enrich my perspectives and daily practices to reflect the knowledge and experiences that I am so grateful to be able to share.  
I hope to inspire curiosity and evoke a unique vantage point that empowers you to seek answers and question conventions. A space to nurture the connection within ourselves, celebrating self-discovery, ultimately, finding our own path to well-being.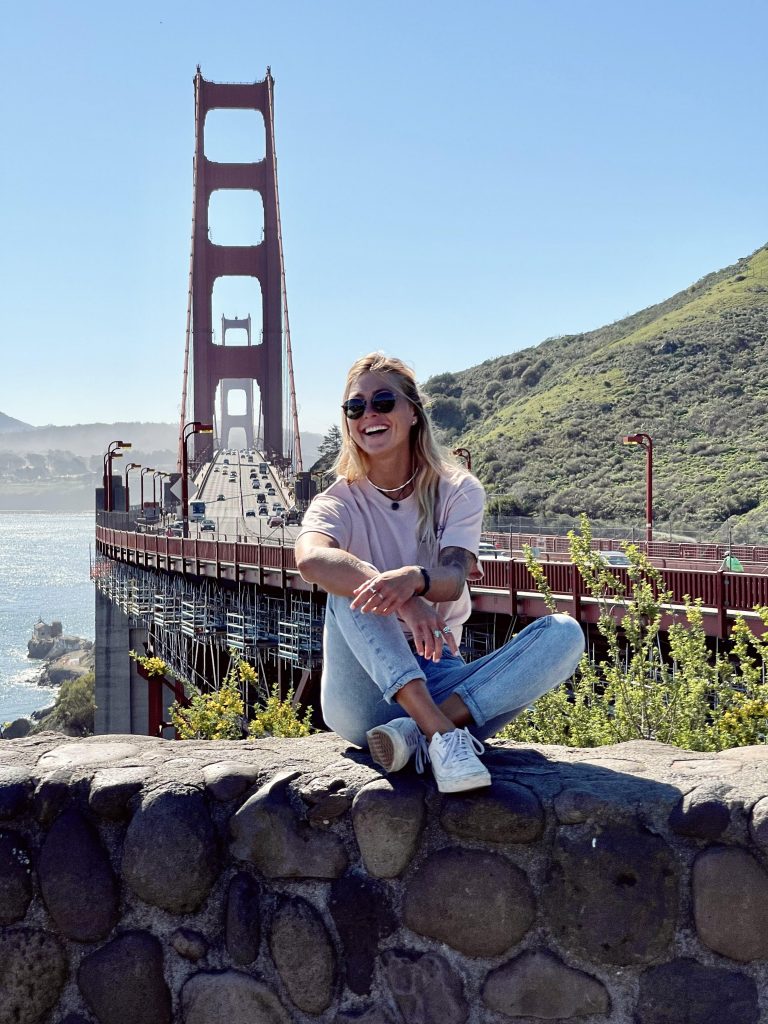 All I can say is WOW!!! Steph and Polina are two of the best teachers I have found. Their love and inner wisdom shine through the classes and time they spend helping each person connect to their heart and soul. They foster a feeling of community and support right from the start.
"Polina and Steph provided the space and lit the fire of inspiration to be able to connect and learn to both myself and to the world around me in such a new passionate way and having so much fun along the way"
We'd love to connect. Please contact us or schedule a consultation call to determine if this program aligned with your needs and goals.